George Holm Co-Founder, Coach
Over 25 years of coaching and playing experience combines with a distinctively European style and a passion for the game. George has been coaching on all levels from 3 year old boys and girls all the way up to professional players. He has been the head coach of teams that has won the Scandinavian Championship for club teams and the largest club tournament in Europe. George knows exactly what to focus on in different ages for the players to reach his/her maximum potential. George is the driving entrepreneurial spirit behind Dream Big Development and Dream Big Basketball Academy. The Swedish Basketball Federation awarded George with the elite coaching certification in 2003. The title is earned by only a handful of coaches in the country who have invested over 2,000 hours studying techniques, strategies and practical applications of the game. A true student of the game, his calm demeanor, attention to detail and depth of knowledge is ideal for Dream Big Development.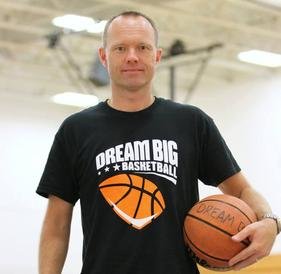 Keri Holm Co-Founder, Coach
Born in Washington, DC, Keri grew up in the Northern Virginia area playing basketball and soccer. It was clear early that Keri had an athletic passion and talent. Years of AAU basketball set the stage for Keri to be a 4 year varsity starter at her high school. A full scholarship to George Mason University. Keri became the all-time leading scorer at GMU, a title she still holds. A.B.S. in Accounting and the read world waiting. Keri chose instead to continue her playing career in Sweden. Four seasons of elite basketball in Sweden and a summer in WNBA with the Washington Mystics, Keri brings wealth of playing experience to Dream Big Development and Dream Big Basketball Academy. During her lengthy career, Keri has been able to coach, work camps and hold private lessons for youth at all ages and levels. Dream Big Development is an exciting venue for Keri to continue to influence and be influenced by the game she loves!